Acabei de ver o obituário do David Bowie no The Guardian. O artigo foi compartilhado no Facebook pelo Asian Dub Foundation, que é citado no artigo como uma influência no álbum Earthling, de Bowie, lançado em 1997.
Achei interessante pois demonstra uma característica de Bowie que para mim é das mais marcantes.
Enquanto a maioria das pessoas lembra de #DavidBowie como grande influenciador, o que se destacava para mim era o inverso: adepto da cut up technique de William Burroughs, Bowie tinha uma capacidade incrível de assimilar outros artistas, outras formas de expressão, outros caminhos como tecnologia e negócios (como quando lançou ações sobre sua obra e "marca").
Basta ver seus covers, colaborações e elogios a Trent Reznor, Pixies, etc para perceber que ele não tinha problema em assumir estas influências de artistas que muitas vezes eram MUITO mais novos e menos conhecidos que ele, alguns que talvez ele fosse a inspiração para terem se tornado artistas. Um mestre humilde, se curvando aos discípulos e fazendo jus ao apelido, repetido como clichê na maioria dos textos sobre ele (principalmente nos últimos dias) e que a maioria das pessoas associa à sua imagem, não a seu som: camaleão. Algo que fica bem evidente em Black Star, faixa-título do seu último álbum, que nos seus quase 10 minutos passa por um bocado de mudanças estilísticas. Se Lazarus, outra faixa do disco, parece o adeus do homem Bowie antes de voltar às cinzas, Black Star é seu testamento como músico.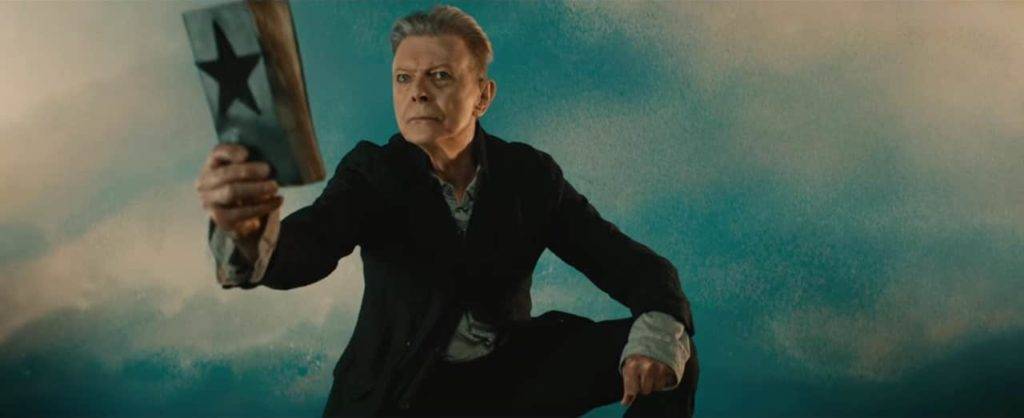 Obituário de David Bowie no The Guardian
For the album Black Tie White Noise (1993), he reunited with Rodgers and sprinkled elements of soul, electronica and hiphop into the mix. It topped the UK album chart and yielded a top 10 single, Jump They Say.

However, Bowie's quest for new sounds to plunder began to evince an air of desperation. Outside (1995) found him reunited with Eno and was another commercial success, despite its laborious concept and clumsy adoption of grungy, industrial sounds, while Earthling (1997) borrowed elements of the drum'n'bass style practised by such UK artists as Goldie and Asian Dub Foundation. One of the album tracks was I'm Afraid of Americans, originally written for the movie Showgirls but remade under the auspices of Trent Reznor from Nine Inch Nails. Released as a single, it sat on the US Billboard Hot 100 for four months.

Bowie was demonstrating unexpected forms of creativity in other areas. In 1997 he made history of a sort by launching his Bowie bonds, whereby he netted $55m upfront by surrendering his royalties over the bonds' 10-year term. In 2000, he delved into online banking with BowieBanc, giving customers an international banking service as well as cheques and debit cards with his picture on them.

New media and technology influenced his recordings too. His 1999 album Hours… was based around music he had written for a computer game called Omikron, in which Bowie and Iman appeared as characters. Some listeners detected a return to the Hunky Dory days in the album's reflective, self-analytical musings, though the songs could not match those former glories.
Confira a íntegra, em inglês, em http://www.theguardian.com/music/2016/jan/11/obituary-david-bowie
Vídeo: Black Star
E o álbum completo aqui